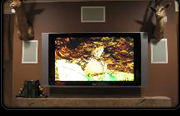 Our in home services start with our qualified technicians arriving to your home on-time with a smile, a drop cloth to place their tools on, shoe covers and white gloves to protect your home and electronics while we install your system. Our dedication is first and foremost overall customer satisfaction. We will provide ideas and solutions to design and install a system to meet specific need, price point and room décor.
Whether we are installing your dream system for digital entertainment or a 24-hour a day monitored security system protecting your home and all of its priceless possessions we guarantee our products and services to meet or beat the end users satisfaction.

Integrated systems technology provides us the ability to connect your home devices and electronics in ways you could only imagine. State of the art home control hardware and software package together with a structured wiring plan, can tie your home together to work for you. Most all of our products and services can be integrated to be easily be controlled from one central location by utilizing your existing PC, a programmable remote control or in-wall keypads and touch screens. Whether you need help to set-up a wireless network, hang your new flat panel TV or integrate all of your homes electronics we deliver an exceptional array and quality of service to meet all of your low voltage demands.

Innovative Communication will custom design and install structured wiring cabling packages to satisfy the homeowner that demands the latest in technology. We are happy to work with your designer, builder, and or architect to provide a seamless network of capable professionals to meet and exceed your expectations.
Inter/Intra office communications and video teleconferencing allow us to communicate and present our ideas to efficiently convey the companies latest business plans to employees and clientele. Security systems and cameras protect our bottom line from the more unfortunate instances that arise with having employees and an inventory. Flat panel televisions and projections displays allow us to convey our company's goals and market our products and services to potential clientele. Commercial Satellite and distributed music can make your business setting more enjoyable for employees, customers and those of us that our business relies on at any hour.
Electronic systems integration in your business can mean a distributed high-definition video and crystal clear audio throughout your workplace, bar, or restaurant, or perhaps a fully automated boardroom with overhead projectors, smart boards, video teleconferencing, and more with laptop or PC interfaces and LCD touch screens for enhanced system operation. Whatever your business demands in electronics technology we guarantee or products and services to meet and or exceed your expectations.
We have performed may successful projects for many corporations, schools, and governments one of our more recent projects was the installation of a gunshot sensor system for The City of Minneapolis which provides the technology to achieve quicker response time for police and medical in the event of gunshot in a given neighborhood. We would love the opportunity to present a bid on your businesses next project and we are happy to provide references.